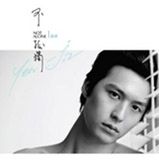 Yen-j's second album has been out for awhile, but I never got the translations posted. Sorry guys! >_< But now that he's working on his THIRD album, I'd better get these posted so I'm ready for the new ones!
Some songs I like more than others, but they're all thoroughly Yen-j's style!
Not Alone
By: Yen-j/嚴爵
01.
Xie Xie Ni De Ling Gan (Thanks for Your Inspiration)
02.
The Most, Most Beautiful Girl in the World
03.
Li Tang Na
04.
Hao De Shi Qing (Good Things)
05.
Na Ni De Yi Zhi Li (Take Hold of Your Willpower)
06.
You Bu Shi Zhe Yang Jiu Bu Gu Du (It's Not Like It Isn't Lonely This Way)
07.
Mei You Ni Zen Me Ban (What Would I Do Without You?)
08.
Mei You Xuan Lu Pei De Shang Ni (No Melody is Worthy of You)
09.
Wu Fa Xiang Xiang (Unimaginable)
10.
Ming Xing Di Ai (Celebrity's Love)
11.
Zhen De (It's True)
12.
Ge Bi Da Lou (The Building Next Door)
Corrections are always welcome! So if you happen to have a better translation and are willing to share, please go ahead and leave a comment or email me at
mizalburrz @ hotmail.com
Not Alone lyrics translation by XiaoZero