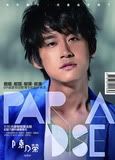 Many know Nylon Chen as Cao Cao in K.O.3anguo. I must admit, that's how I first knew him, too. But Nylon isn't just an actor, he's also a very talented musician! I've only just recently gotten my long-awaited copy of
Paradise
in the mail. And after falling in love with the songs and translating the lyrics (to the best of my ability), I'm proud to be what looks like the first person on the web to share all of them with everyone!
Click on the links! That's how you get to the lyrics. (Ohhh~ Magiiiic~!) ;D
Paradise
By: Nylon Chen/Chen Nai Rong/陳乃榮
01.
Bu Zai (No Longer)
02.
Huang Yan (Lies)
03.
Ling Hun De Ding Li (Spirit's Strength)
04.
24 Xiao Shi Feng Kuang (Crazy 24 Hours A Day)
05.
Ai Shang Ni De Shun Jian (The Moment I Fell In Love With You)
06.
Zhao Huan Shou (Summoned Beast)
07.
Yu Ren Jie (April Fool's Day)
08.
Wei Xiao De Yan Lei (Tears With A Smile)
09.
Guang Mang (Radiance)
10.
Paradise
Corrections are
always
wecome! So if you happen to have a better translation and are willing to share, please go ahead and leave a comment or email me at
mizalburrz@hotmail.com
Don't forget to leave a name or username so I can properly credit you!
Paradise lyrics translation by XiaoZero