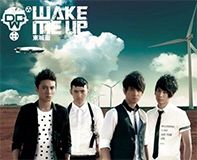 I was given another lyrics translation request! This one is for Dong Cheng Wei's lastest album "Wake Me Up". I'm actually rather surprised no one has translated Dong Cheng Wei yet, considering how popular Xiu seems to be among KO viewers.
Anyway, this is a darn good album. There are lots of love/breakup songs, but there are also some with deeper messages. Give it a listen!
Wake Me Up
By: Dong Cheng Wei/東城衞
01.
Wake Me Up
02.
Hei An Shu Guang (Dawn in the Dark)
03.
Yi Li Ya Te (Iliad)
04.
Di Yi Ci Yong Bao (Our First Embrace)
05.
Xiang Fei (I Want to Fly)
06.
Chu Kou (Exit)
07.
Zui Hou De Guang Jing (The Final Times)
08.
High
09.
Wu Xian Meng Xiang (Limitless Dreams)
10.
Bu Zou (Won't Leave)
Corrections are welcome! So if you happen to have a better translation and are willing to share, please go ahead and leave a comment or email me at
mizalburrz @ hotmail.com
Wake Me Up lyrics translation by XiaoZero